Happy Tuesday design devotees! I'm letting IBB Designer, Kevin Wild take over the blog today. He's offering up some easy tips to kicking off your design projects in 2013. Take it away Kevin…
Anyone who has taken on the challenge of a home design knows that is does not happen over night. Design is a process. You have to start somewhere. "But where?" you ask.
Let's start off 2013 with a NEW design for you! Here is an easy guide you can use to help you with your starting point.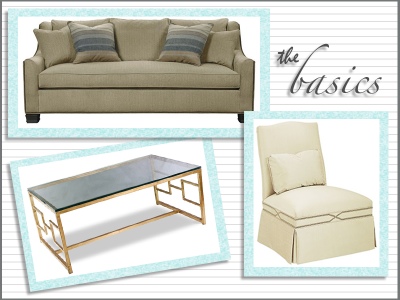 Step 1: Starting with "The Basics" is easy! To me the anchor pieces in the room are the sofa, chairs and cocktail table. Before you get too ahead of yourself, be sure to watch out for the #1 most common mistake; being overly matchy-matchy. This is a big no no! When choosing your basics, be sure to play with different shapes and materials. This Hickory Chair sofa and slipper chairs complement each other with soft lines while the Interlude Home cocktail table adds a contrast with an exciting geometric punch.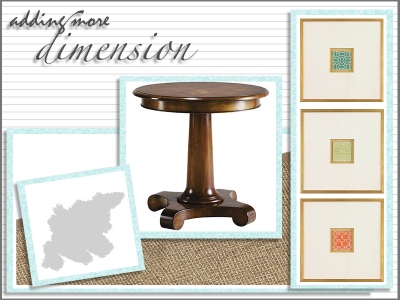 Step 2: Adding layers and dimension. Now we are starting to build on the basics. This is where even more character comes into your home! Once again we are utilizing contrasting shapes and adding interest with new textures. I added in a fantastic Thomas Pheasant round side table by Baker Furniture. The soft curve brings a new shape into the room and the wood material brings in warm tones and life. Painting Sherwin Williams Conservative Gray on the wall builds on another layer while contrasting with the gold tones in the stunning John Richard art. There is nothing better than mixing gold and silver tones!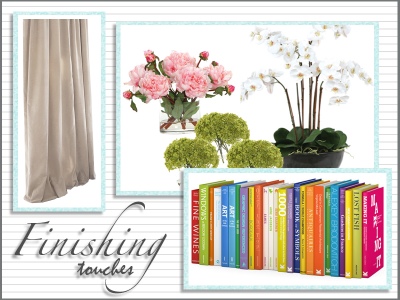 Step 3: Finishing touches make the room! The finial building block to any room is the accessories. This is where even more texture comes in, not to mention color! I love to bring in colors you see in nature when using floral pieces. Lux Art Silks, John Richard and NDI Floral are great sources for life-like floral designs. In addition to floral, be sure to have a designer cocktail table book or eight! Adding cocktail table books or even books from your travels give guests a sneak peak into your personality. Finally, in the finishing touches stage be sure to have plan window coverings which will add the final layer of softness against otherwise harsh walls.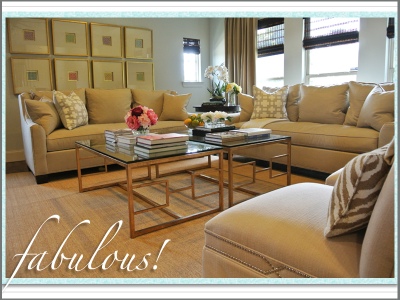 Step 4: ENJOY! Sometimes when seeing the different building blocks to a space separately it can be scary and a little overwhelming. As a designer, it is my job to take your style and bring it to life while helping you envision the space every-step of the way. If you have a hard to envisioning, then your first step should be putting a little trust in your designer's hands! Now that you have all the elements layered on one another, you have a fabulous space to live in!
Happy designing!