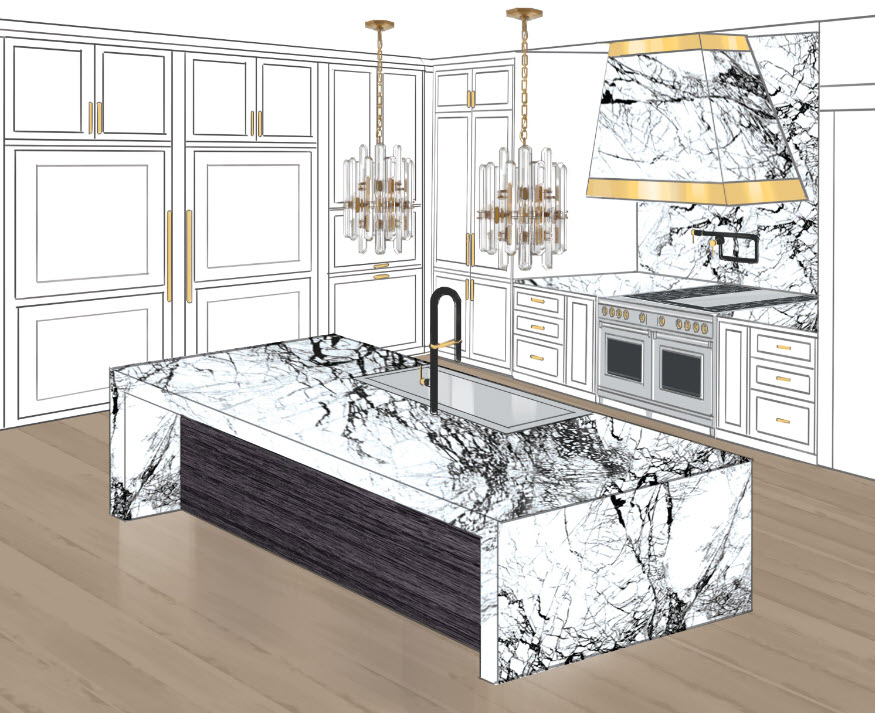 Decisions, decisions!
Sometimes it's difficult for a client to clearly understand a designer's vision based solely off of descriptive words, plans, and samples. As an additional service, we offer renderings to help our clients visualize what the design concept will look like once it's completed.
For this remodel in Utah, we wanted to render the design options to help our client confidently make a choice regarding their floor and cabinet color.
The kitchen will feature a stunning Lilac marble that consists of a white background with veins in black and a deep amethyst purple. The countertops, backsplash, waterfall island, and vent hood will all be fabricated out of this material. Paired with brass details and contrasting wood tones, this will certainly be a showstopping kitchen design.
For the powder bath design, we wanted our clients to decide between different floor color options and lighting options. The sink vanity and mirror wall will be fabricated out of a stunning marble. Asymmetrical lighting honors the modern vibe we desire for this space. Three dimensional metallic tile will cover two of the walls. Brass accents add warm contrast.
Design is subjective. Certain things speak to some people more than others. Which options would you choose if it were your home?