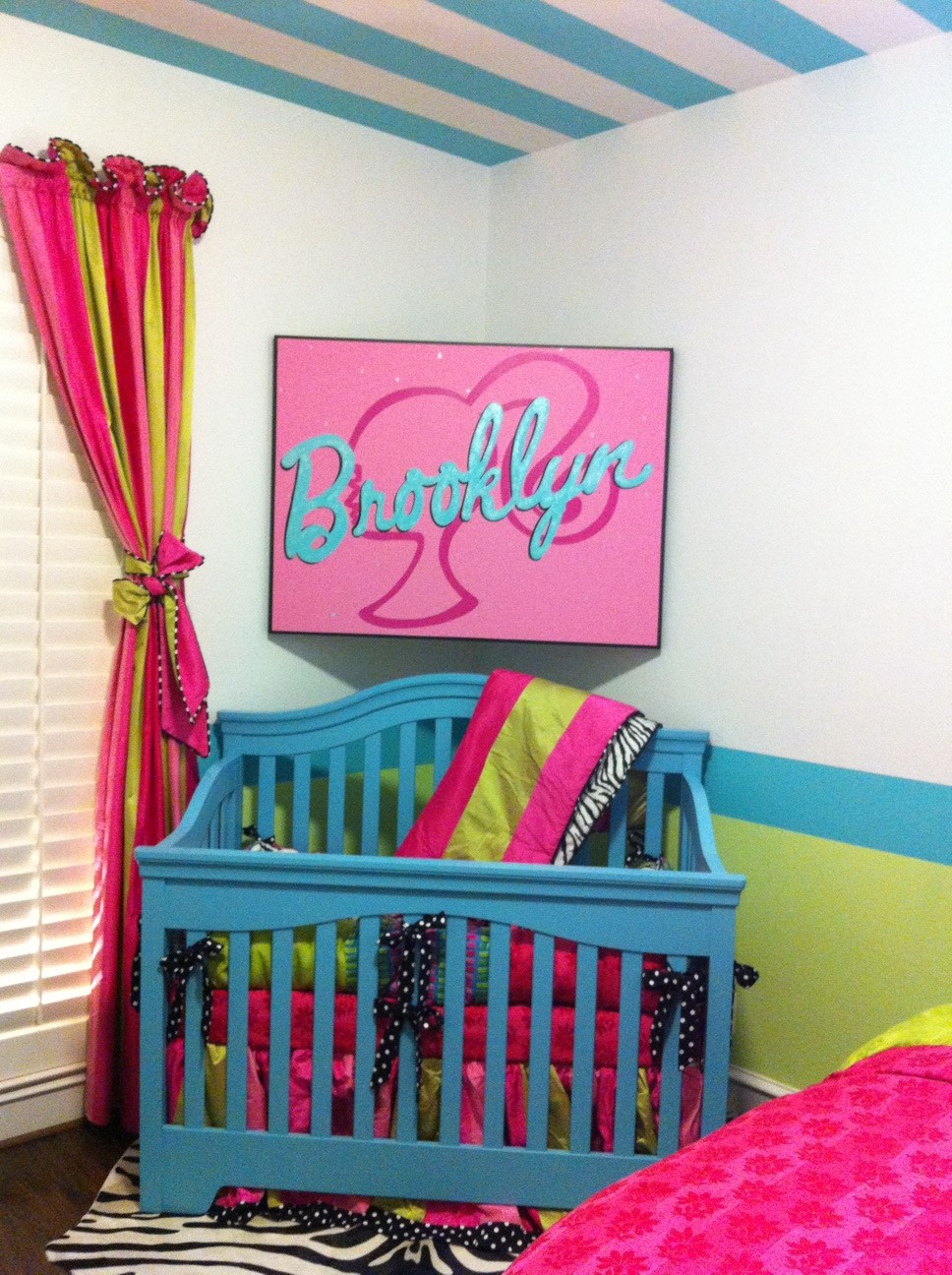 Today's Sneak Peek Saturday is a glimpse into the nursery of our sweet baby girl Brooklyn who is due to arrive any day now.  All of the bedding is what I used in our oldest daughter's nursery.  I chose to go more funky & not so "baby" in the room so that it would grow with her.  Turquoise, hot pink, bubblegum pink & lime green compose the color story.  I added accents of black & white for some contrast & spunk.  I'm a big fan of vibrant colors & six years later, the fabrics are still fun & fresh.  You don't have to go this bold or funky in your nursery, but I always say it's a good idea to plan a room with room to grow.  Using a baby theme or baby specific farbrics may create the need to re-do the baby's room once they pass the toddler years.  The longevity of your design investment goes right out the window.
I even used the same drapery panels that we had in Jaylie's nursery.  The windows in our new house are a bit taller, but I was able to let the hem out & they worked beautifully.  The art above the crib was a gift from my friend Kris Perry, an artist I work with a lot.  I love ceiling treatments in baby's rooms because it gives them something to look at while they're laying in their crib.  Even though I thought my decorative painter was going to have a heart attack when I told him the plan, I just love how the turquoise stripe turned out.  The inside of the bumper pad is a black & white zebra, so I used a zebra cowhide rug underneath the crib to ground the vivid colors.  I couldn't find Jaylie's crib in storage so, the crib (from Young America) is a new addition.  They have so many fun paint finishes to choose from & offer cribs & other kid's furniture from traditional to more modern in style.
All of the big stuff is done.  We've got the room organized & ready for baby.  I'm waiting on a few last designer details like a custom chandelier I'm having made from Stray Dog Designs & a nightstand to go beside the twin bed in the room.  I hope you enjoyed todays's sneak peek & I can't wait for precious Brooklyn to get to enjoy it.  When the room is complete, I'll post the rest of the photos.  Happy weekend everyone!