Well, I must apologize my design devotees!  I've been meaning to share Brooklyn's nursery with you all for quite some time.  She's 14 months old now & time has just flown by.  Life has been pretty crazy.  I'm still trying to find the groove of balancing life with 2 busy kiddos, time with my hubby & family, running a business & charity work.  Some of you may have already seen shots of Brooklyn's nursery in ON Magazine & GrandLuxe Magazine.  I've also posted a few teasers on facebook & twitter.  But, alas, here are the complete set of shots I had done of her room.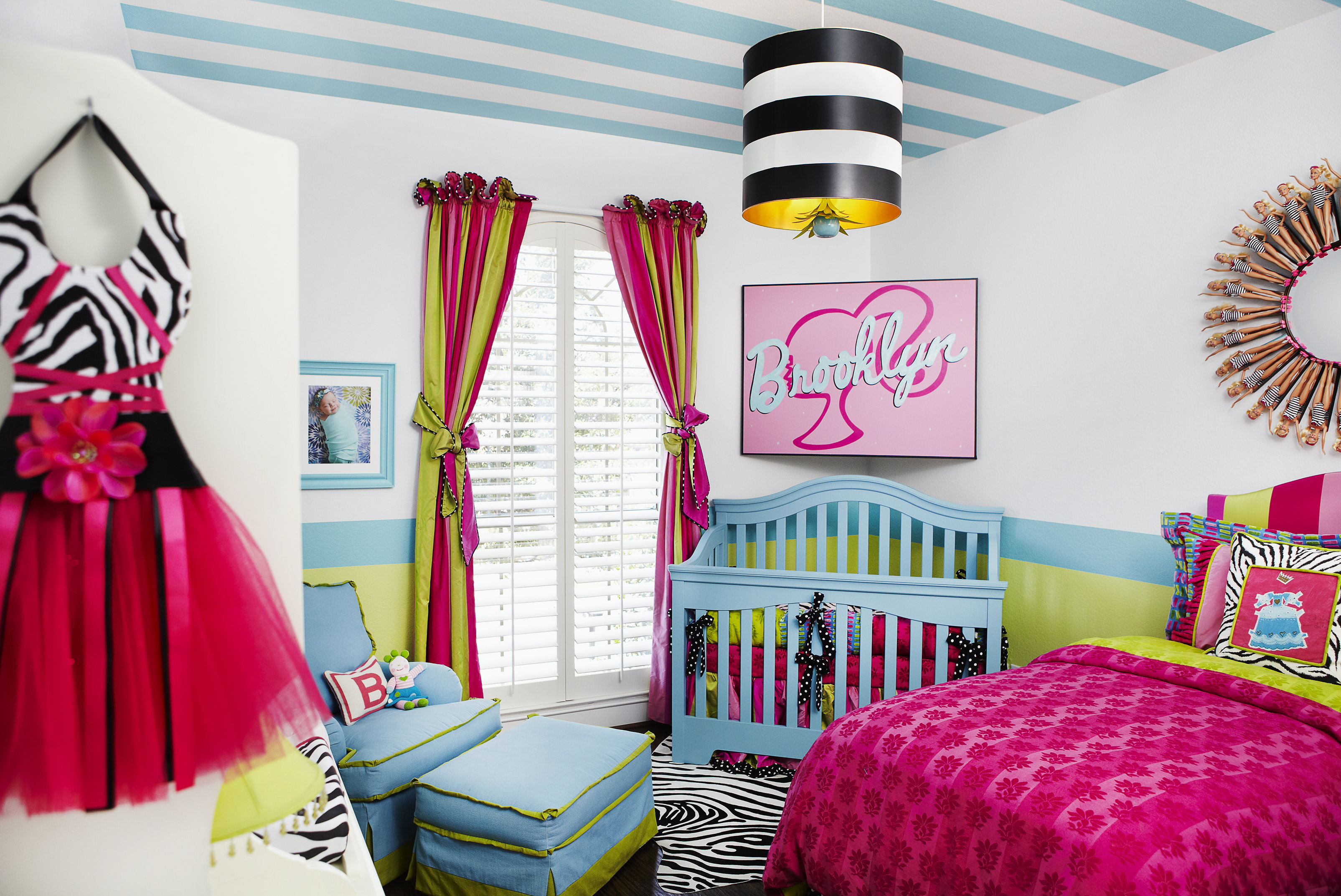 Most of the items in Brooklyn's nursery are what I originally designed for our oldest daughter, Jaylie when I was pregnant with her 8 years ago.  The crib, chandelier, Barbie mirror & chair & ottoman are new additions.  I had aqua stripes painted on the ceiling because I wanted to add a fabulous ceiling treatment for Brooklyn to gaze at while she laid in her crib.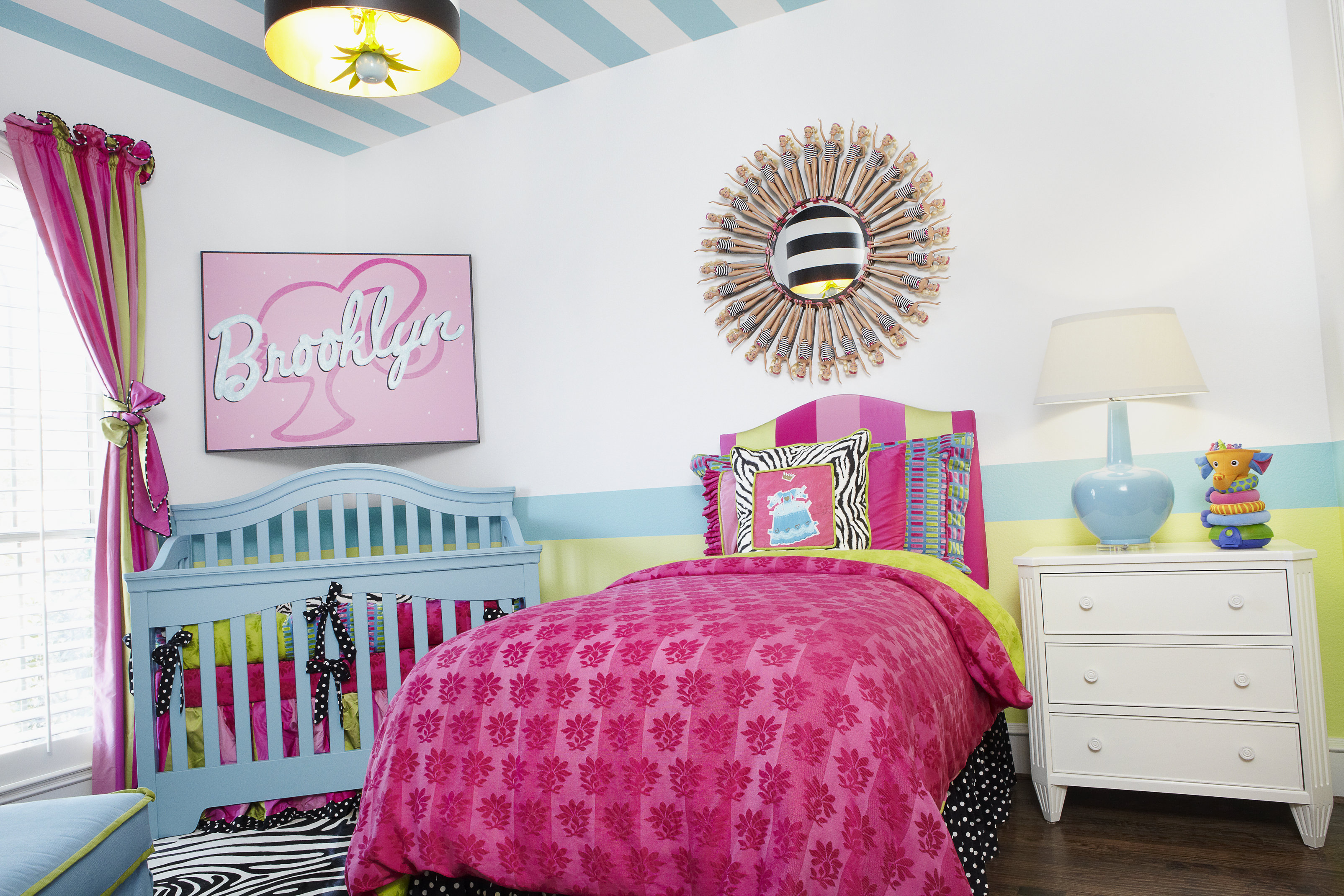 We had the twin bed in Jaylie's nursery as well.  It's a must for daddy or mommy to sleep in when Brooklyn is sick or having a rough night!  Big sister Jaylie often begs to sleep in here as well.  It's so sweet!  The "Brooklyn" art was a baby gift from my good friend Kris Perry.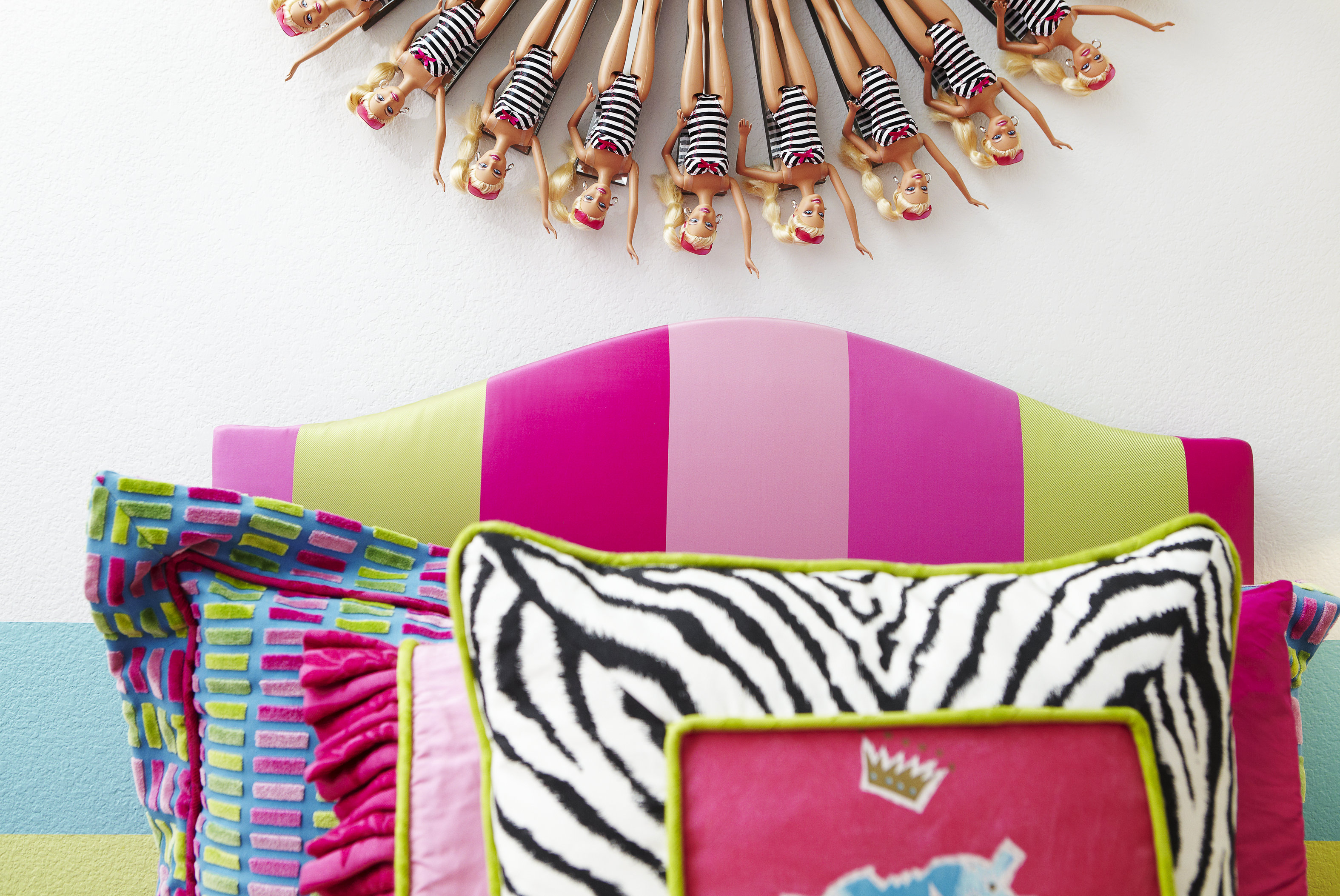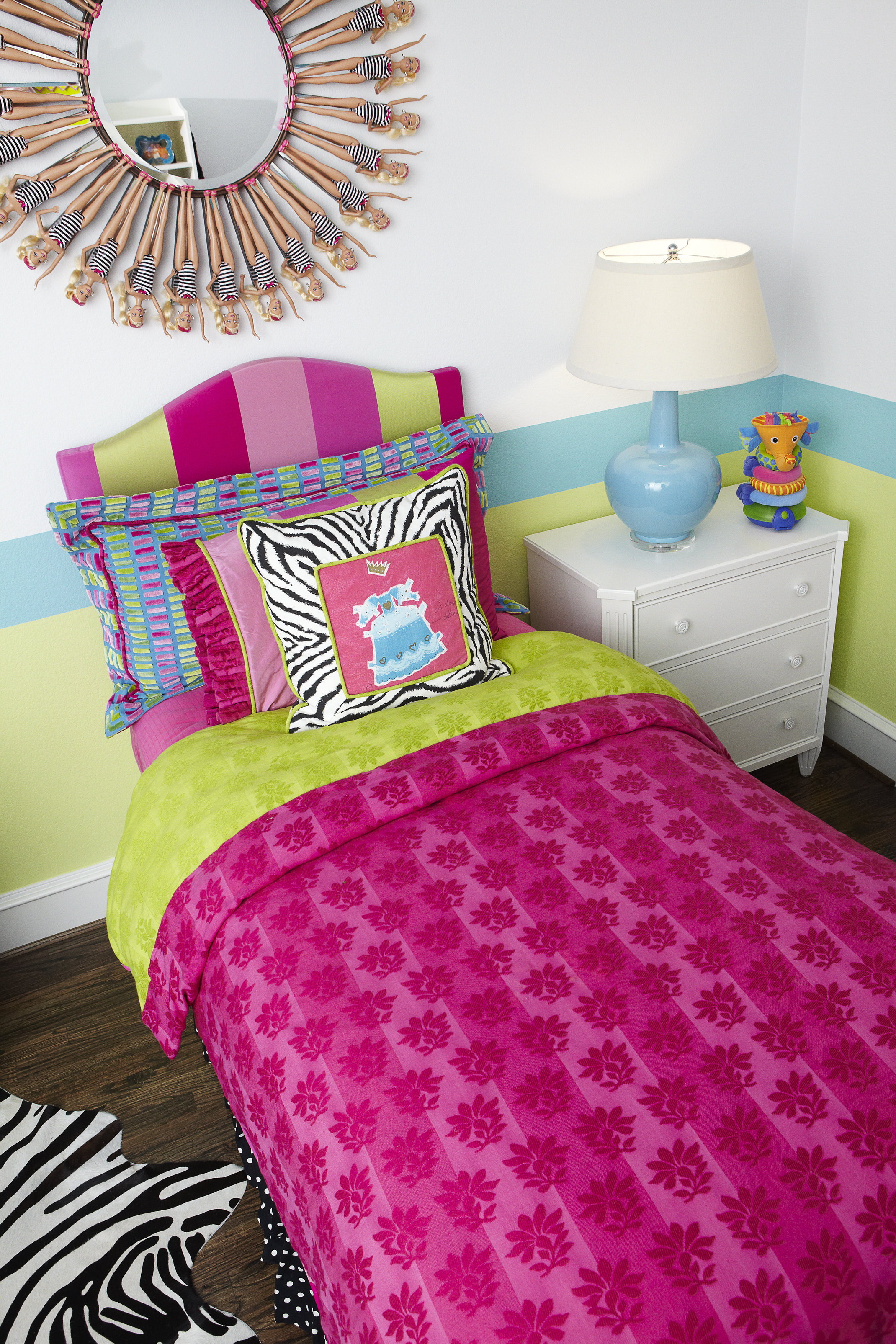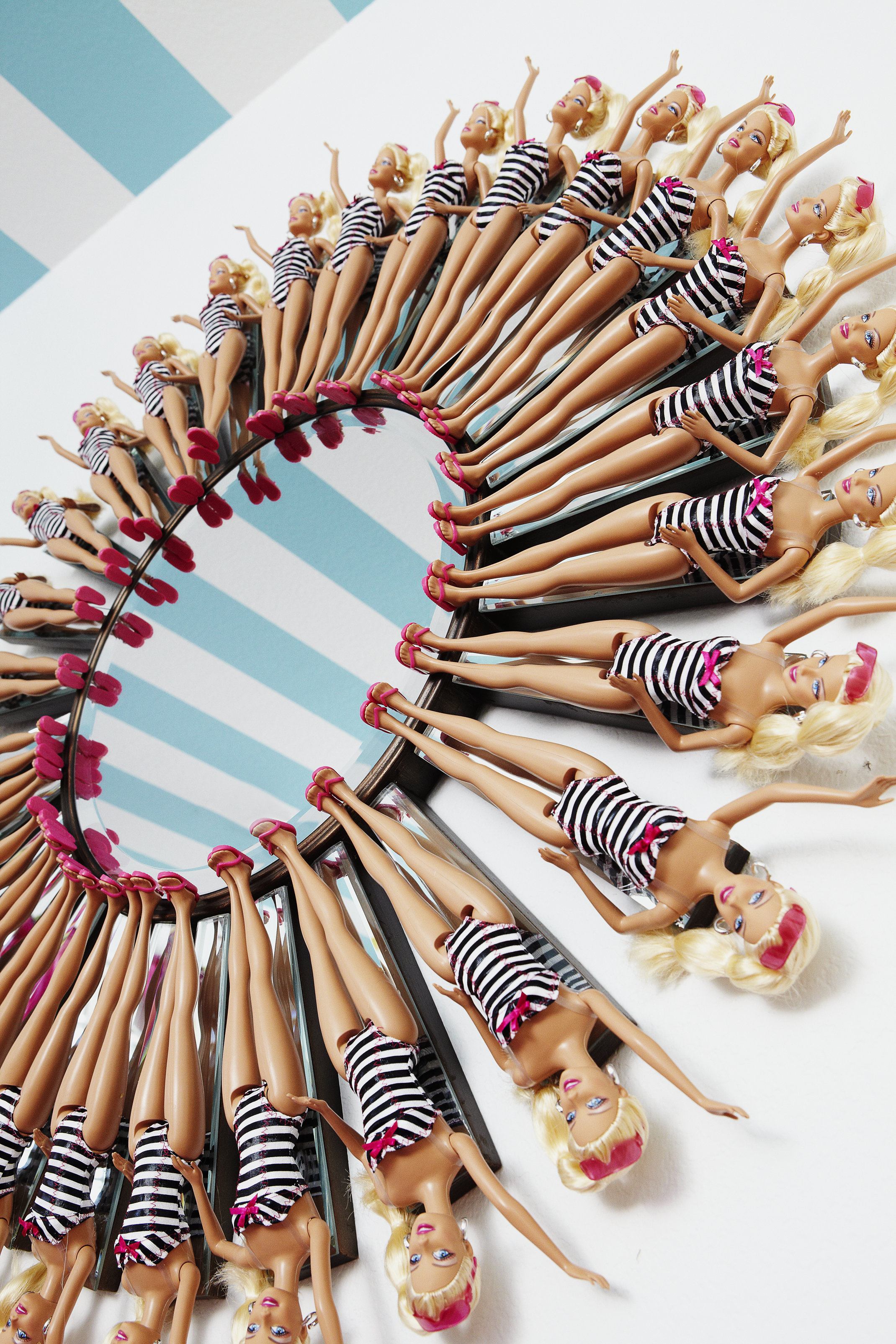 My mom, Jaylie & I made the Barbie mirror.  We used a sunburst mirror from IBB & glued the 50th anniversary Barbies on it in the same pose to create visual cohesiveness.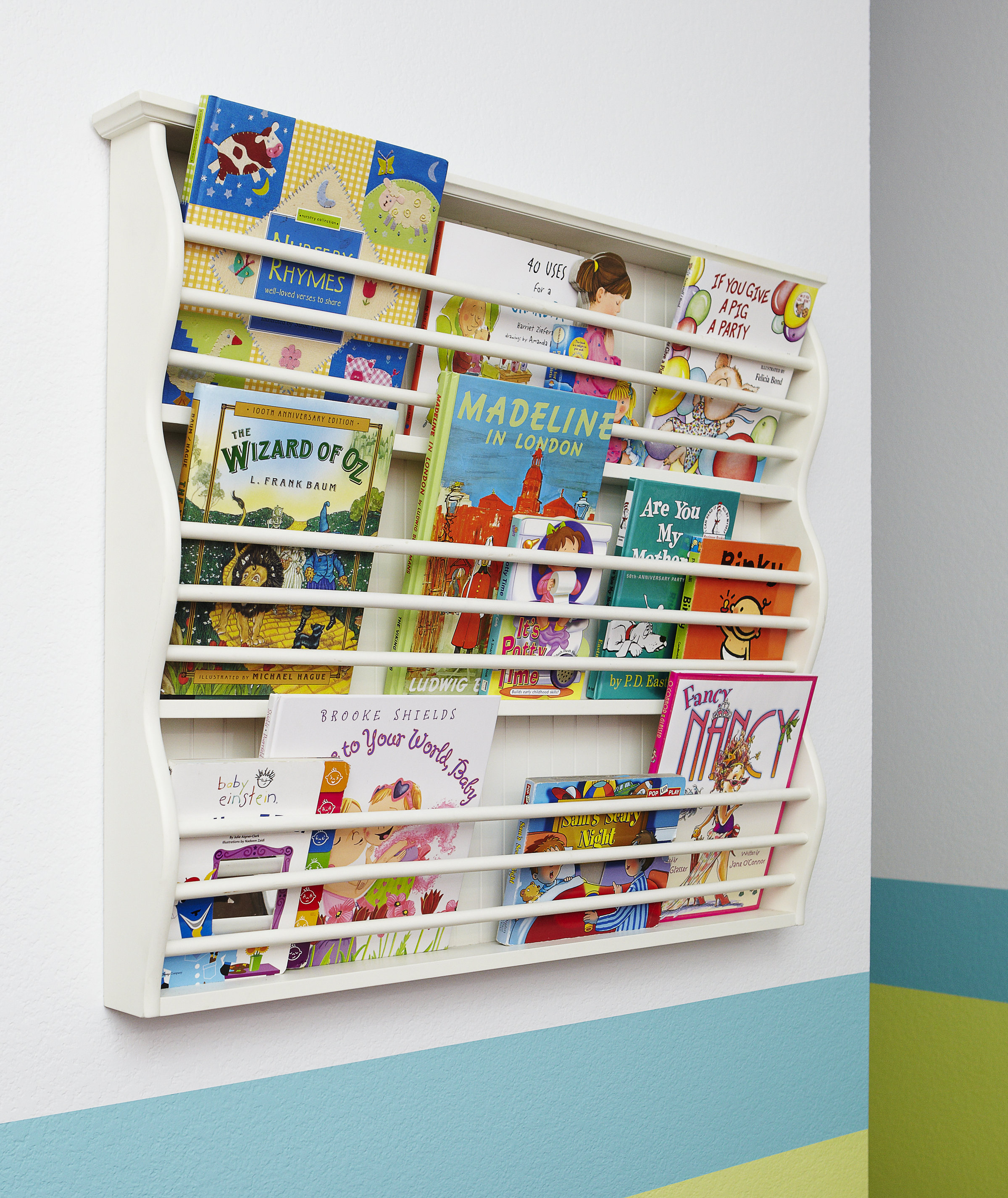 Jaylie loves to read to Brooklyn.  Actually, I'm not sure who enjoys it more.  Brooklyn is just enamored by her big sister!  Keeping books in the nursery is a must!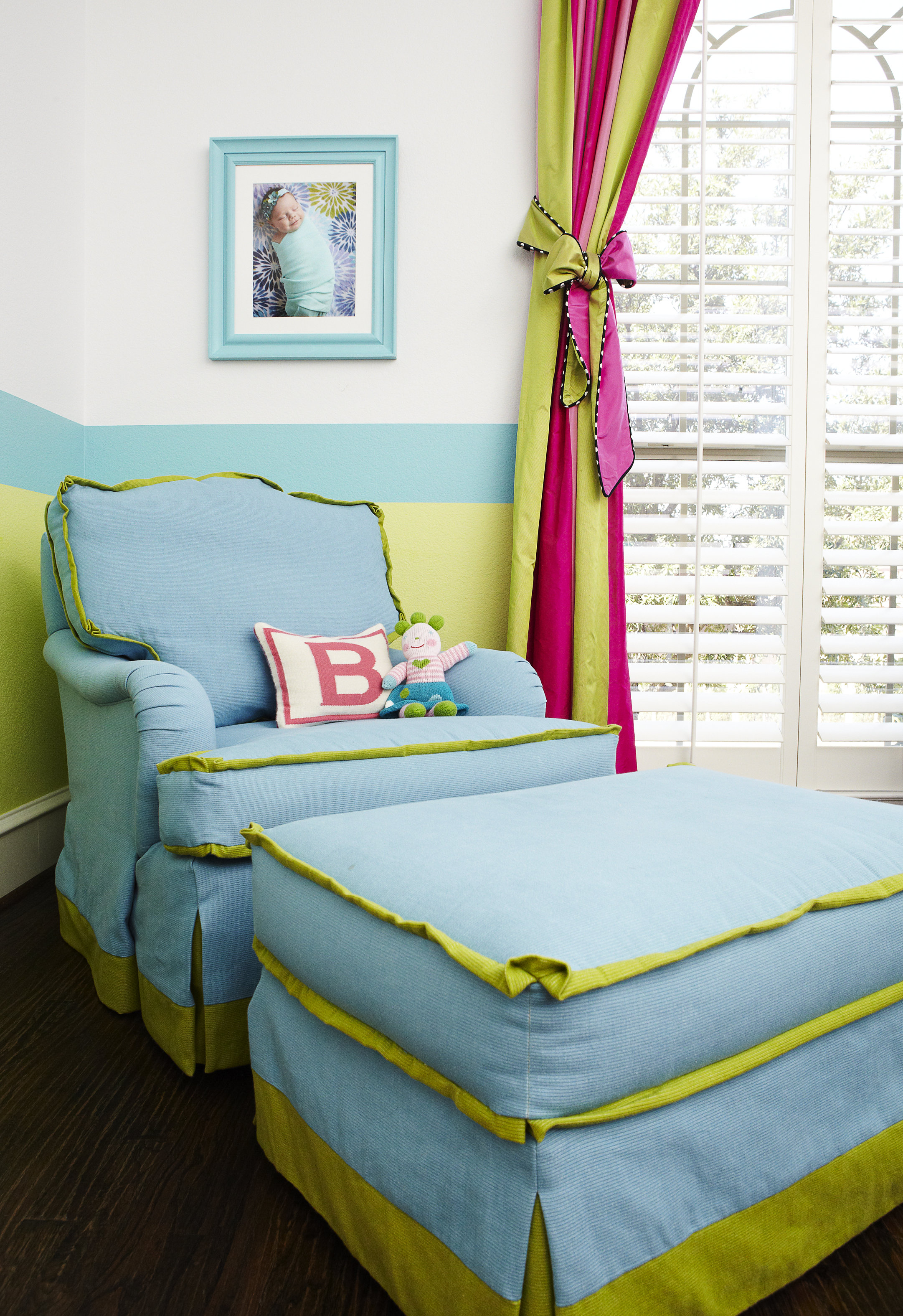 This is one of my favorite places to snuggle with Brooklyn.  This swivel rocker chair & ottoman by Lee Industries is amazingly comfortable!  I have fallen asleep in it many a time!  I had it upholstered in indoor/outdoor fabrics because I knew it was going to get lots of use & abuse from our family.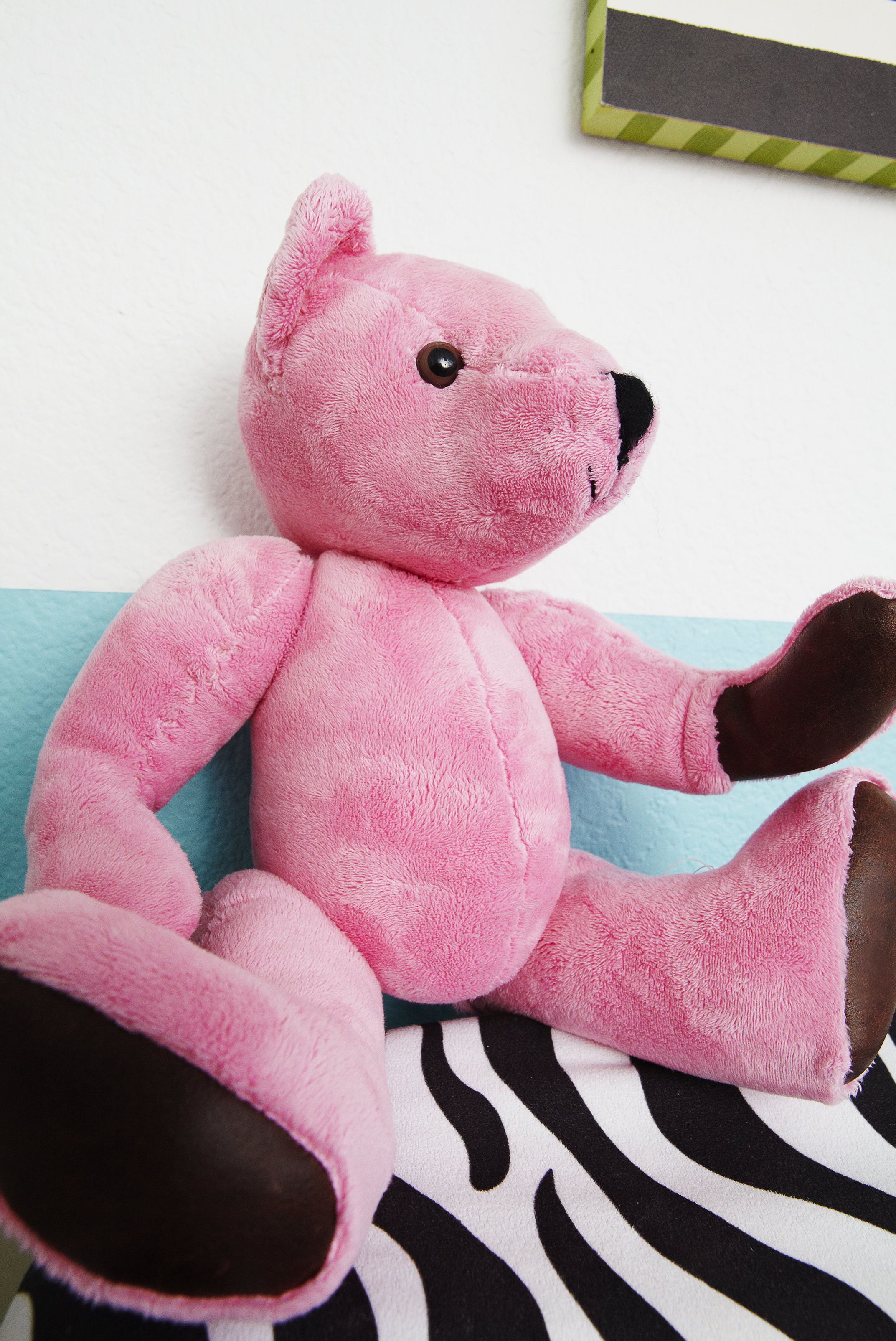 My great Aunt Helen hand made this pink velvet bear for Brooklyn.  She made a similar one in pink mohair for Jaylie when she was born.  We keep it up on the changing table, but it's just for snuggles & looks.  Too precious to play with everyday!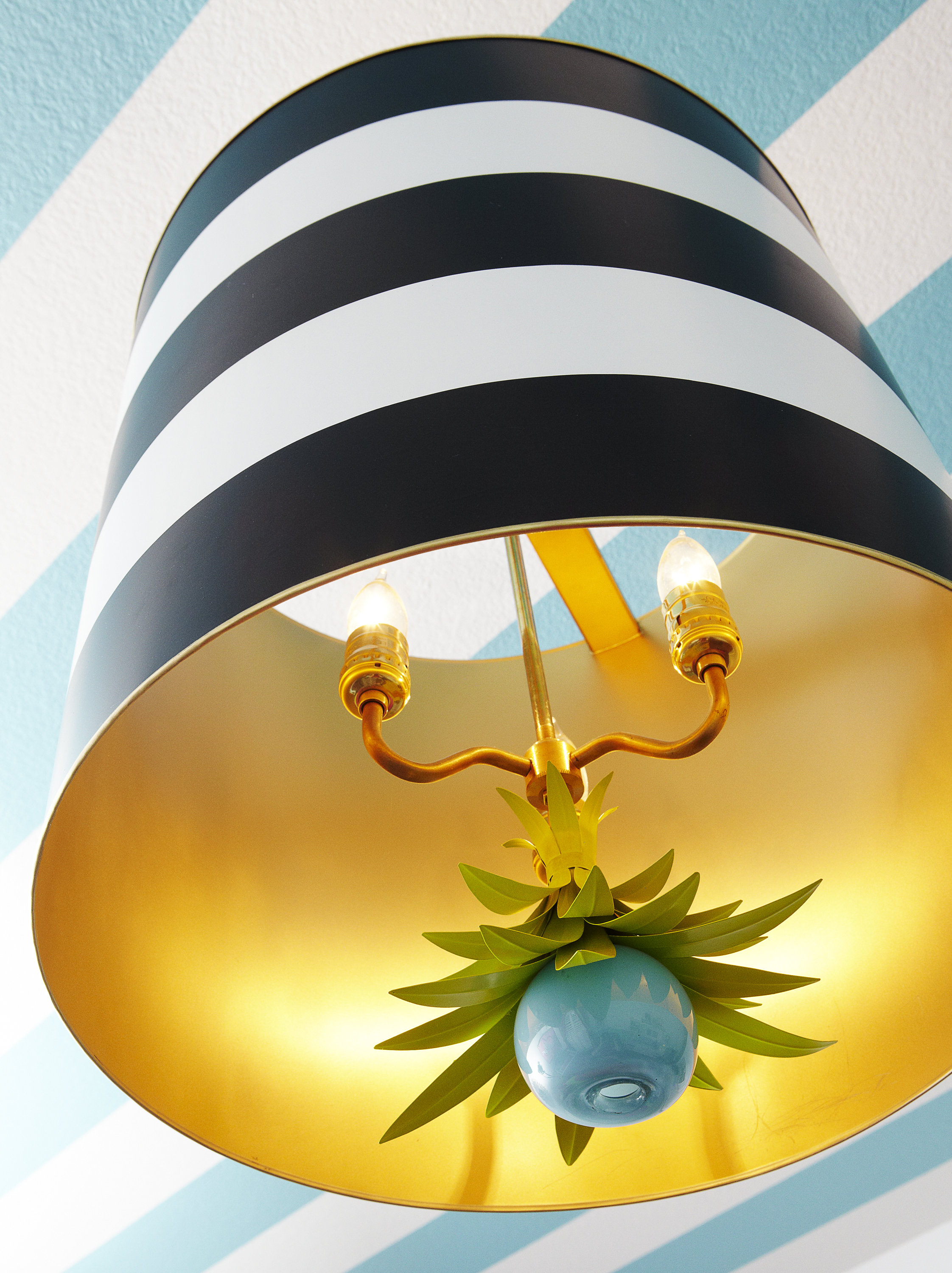 I love Brooklyn's chandelier from Stray Dog Designs.  I had this design made in a custom size to fit her room just perfectly.  I love how the black & white stripes play with the aqua stripes on the ceiling.  The aqua & apple green finial are just adorable!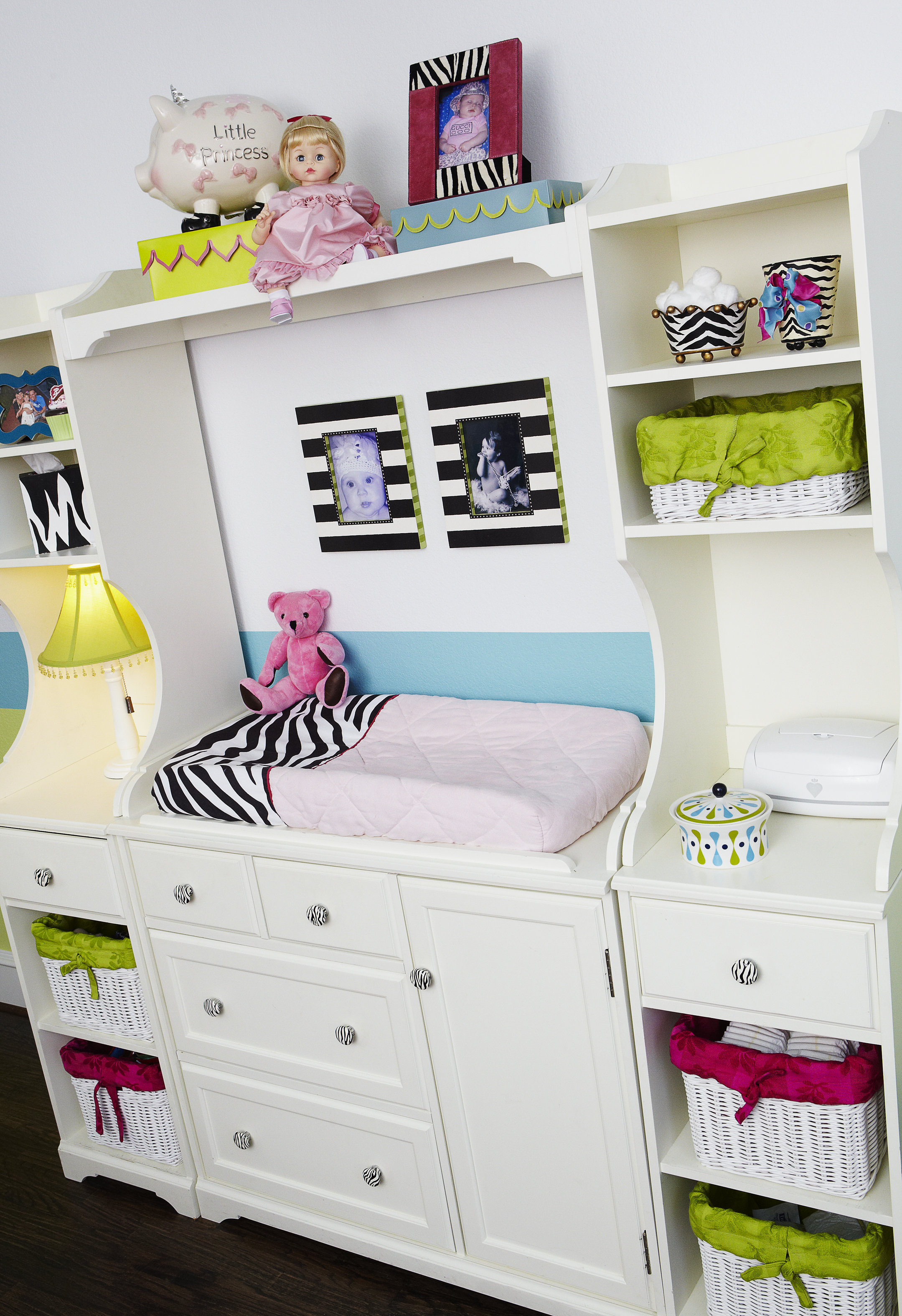 I had liners made for the baskets on the changing table out of coordinating fabrics from the nursery bedding.  It's a great way to conceal all of the necessities we use on a daily basis & add color to the white changing table unit.
I hope you enjoyed the peek into Brooklyn's nursery!  To all of my momma friends out there ~ Have a wonderful Mother's Day & I hope you all are pampered & spoiled tomorrow!
*all photos by nathanielphoto.com*
Happy Designing!
xo
Shay