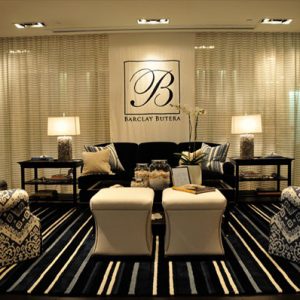 Kravet, one of my very favorite "go to" fabric lines had a wonderful post today on their blog about selecting the right fabrics for upholstery.  Even as a design professional, I found the knowledge & advice they provided in the blog post to be very valuable.  It's a worthwhile read for anyone thinking about or in the process of selecting new or re-covering upholstery in their home.  Read their post on upholstery fabric tips here.
Kravet has an extensive library of fabrics to choose from.  They really do have something for everyone at just about every price point.  You may remember me telling you about their new KravetSmart program featuring a more cost conscious approach.
They are also very well known for their ingenious collaborations with interior designers such as Candice Olson, Barclay Butera, Alexa Hampton, Barbara Barry, Calvin Klein & many more.
However, the pièce de résistance for me is their Guaranteed in Stock books.  These books are a lifeline for me when I'm trying to meet a quick deadline for clients.  Case in point ~ I had a rather distressing moment at my own home last week.  Upon "fluffing" my formal living room in preparation for dinner party guests, I discovered that my sweet sweet dog had decided to make my living room chairs her daily place of resting, licking paws & other doggy propensities.  The cushions were in shambles 🙁  With our holiday party less than 2 weeks away, I had to think fast!  I went straight to one of Kravet's guaranteed in stock books that contained my home's color palette & selected the perfect material to begin the resurrection of my beautiful chairs.  I had the farbic in hand 3 days later.  My amazing upholsterer will have them back to me on Thursday, leaving me 2 days to spare until our party.  Whew!  Looks like Sassy (my sweet sweet dog) is giving me living room chairs for Christmas 😉
Finding the perfect fabrics can take time.  Follow the advice of professionals in the design industry or work with a professional designer to help you find fantastic fabrics for your home.