So, last night I tweeted about our yummy Fall Sunday dinner & had many of you drooling & requesting the recipe.  SO, here it is!  I have to give credit to my mom.  This is actually her recipe.  She tweaked it a bit from a recipe she had found in a magazine.   Bon appetit!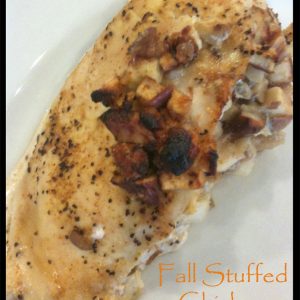 Fall Stuffed Chicken:
5 Large chicken breasts
1 apple chopped very fine
1/3 cup chopped almonds
1/4 cup bleu cheese
salt & pepper
Directions:
In a mixing bowl, mix together chopped apple, chopped almonds & bleu cheese.   Slit the sides of the chicken breast to create a pocket to stuff.  Insert stuffing mixture into pocket & top chicken breast with a spoonful as well.  Add salt & pepper to taste.  Bake in the oven at 350 degrees for 45 minutes.
Save