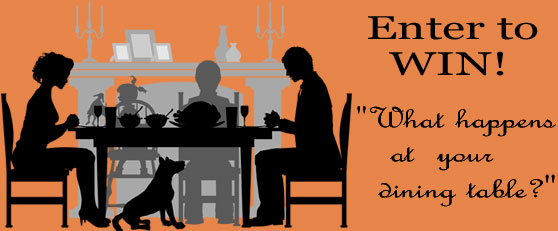 Enter to win this new contest sponsored by IBB Design Furniture Showroom!  It's so easy & one lucky winner will receive a $500 Gift Certificate to IBB!  How cool is that?  Here's the skinny:
The holidays are fast approaching & life can get pretty crazy this time of year.  Take some time to refelct on your family time & tell us about it!  You could win big!  Simply e-mail at least one photo of your family in action at the dining table.  Tell us about what happens at your dining table & explain your photo.  Does the dog beg for scraps?  Do your kids set the table?  Do you talk about politics or just about everyday life?  Do you eat there every night or just special occasions?  Does your family prefer the formal or casual dining area of your home?  Do you cook, or order take out?  Any special traditions?  Do the kids use the table for crafts or homework?
All entries will be entered into a drawing.  One winner will be drawn from submitted entries to win a $500 gift certificate to IBB.  A second "Viewer's Choice" prize will be awarded for the most creative entry.  The Viewer's Choice winner will win a $300 gift certificate to IBB.
Multiple entries are permitted.  All entries must be submitted by Monday, November 17th.  Voting for the Viewer's Choice award will take place November 17th-20th.  Viewers can vote for their favorite entry on the Designer Detective blog.  Winners will be announed live on Good Morning Texas on Friday, November 21st.
Check out www.ibbdesign.com for more on official rules & entry information.  Good luck!